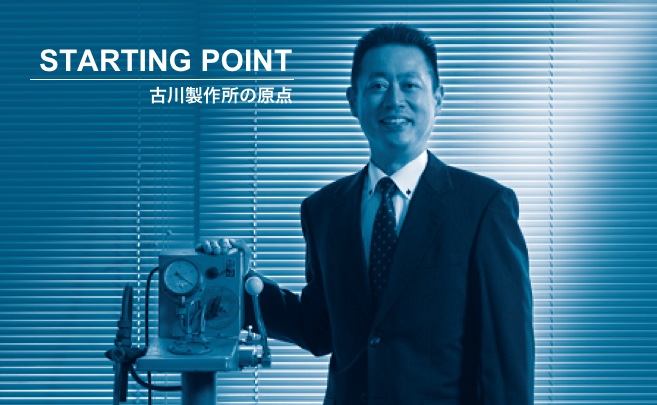 The delivery record more than 25,000 companies
We base on management philosophy that
Bringing happiness to those around us before ourselves",
and we keep creating our original.
Project and Product
"OLD RIVERS ®" has supported an advanced of food distribution.
In 1950's, food manufacturing was moved the style, "bulk production." The background which is formed new food distribution was related to an extension of term to reserve foods of an improvement about package technique. The above of vacuum packaging machine gets involved with that. We, Furukawa made the first it in Japan. Since then, we has improved as a packaging machinery manufacturer, and now we establish both of the delivery record more than 25,000 companies and more than 40% domestic market share.
The origins of our company
Our founder's opinion, "MOTTAINAI" is the origins of our company.
The founder of our company, Takao Furukawa was familiar with sales about cooked beans and bread after the war. However, as food shortage was improving, he had to discard unsold reluctantly. He thought "Mottainai. I want something to change." His righteous indignation was a cue to change packaging machinery manufacture in the future. "To think about happiness of more people is to make us happy." This our basic philosophy inherits our founder's aspiration more than sales.
Future departure
Toward the bigger world by our original technic and productions.
We always have kept listening to customer feedback, correspond with them carefully and our products have advanced. As a result of that, we get a highly original technology as a specialized manufacturer. Also our brand, "OLD RIVERS ®" acquire a high reputation not only domestic but also every 54 countries in the world recently. Especially the USA, we establish the delivery record more than 3,500 machines. We also want to play on around Asia and support to develop modern Japan in the future.
We, Furukawa will let us be familiar with every world and pursue more happiness.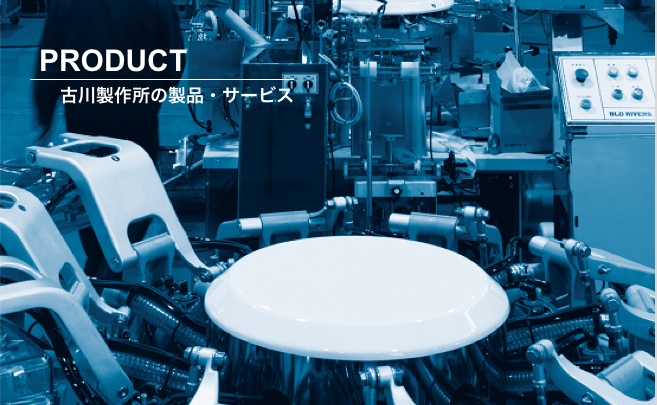 Lineup to meet all needs
We create your trust by our products that continue to evolve
in a variety of functions and our sensitive corresponding.
Productions made in Furukawa
Packing everything and solving every problems, "OLD RIVERS"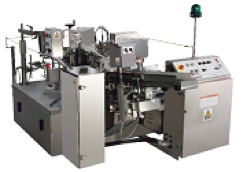 Automatic filling-sealing machine
Automatic filling-sealing machine is standard of filling-sealing machine.
Waterproof stainless expands the use as variety of additional functions by various attachments.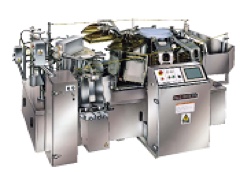 Vertical chamber vacuum packaging machine
This is the vacuum packaging machine equipped with vacuum packaging units.
Also this vertical chamber vacuum packaging machine can correspond to all kinds of products by multiple condition setting and adaptability to be available options.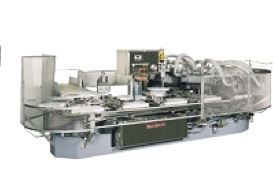 Rotary chamber vacuum packaging machine
This is large vacuum packaging machine be available for pack thick packages.
It functions as the center of the line and designed on the premise of cooperation with equipment such as conveyors.
Service system with integrated sales, design and manufacturing
Service system with integrated sales, design and manufacturing
Sales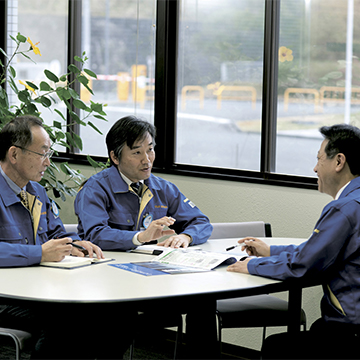 Design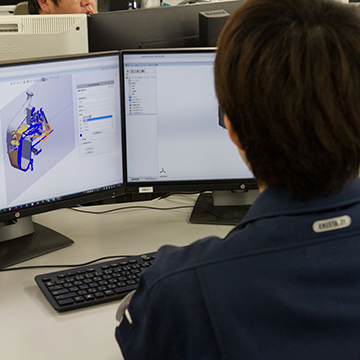 Manufacturing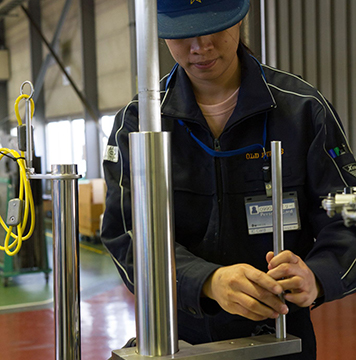 Delivery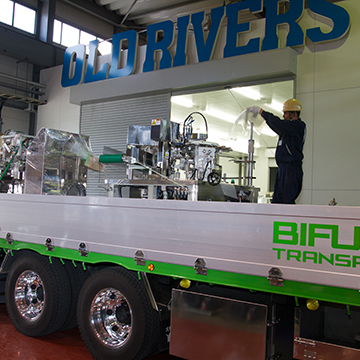 Extensive after-sales service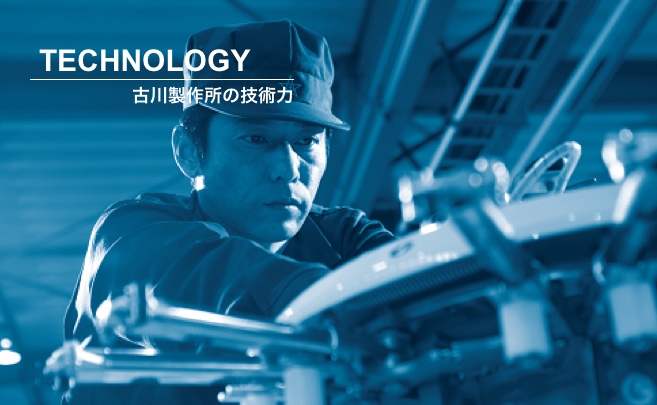 What we can only make.
Each one knows the site and provides the best resources.
Production System
Machine Studio which we realize customer's individual request.
As a specialized manufacturer, we provide products that maximize customer's requests.That's our standard policy. Different working environments and processing procedures, required functions and themes to be achieved depending on the products to be handled・・・We prepare multiple options to realize maximize customer's requests. Our manufacturing site has an atmosphere like studio rather than factory. That's our big feature.
Quality Management
Quality assurance according to ISO 9001
Our products that support the production line must operate steadily under the customer for a long period of time. So, we are particularly focused on quality control, and as for the parts delivered during the manufacturing process, the inspectors of the quality assurance office are conducting checks based on strict standards.
We have acquired ISO 9001 which is the international standard for quality assurance.
Even after delivery, direct sales staff will support perpetual operation with full follow-up.
Engineers
Everyone is an engineer of OLDRIVERS.
All the staff involved in the product must know the site. Based on this idea, we have assigned businesses, designs and technologies with no boundaries, and we are pursuing an environment in which all members can improve their comprehensive abilities. Our ideal is "To have skills that all employees can assemble products with one person."
The sales staff provides detailed technical supports by themselves and they can support every consultation from customers. All of our members are engineers representing OLDRIVERS.
Company Outline
Name
FURUKAWA MFG. CO., LTD.
Representative
President & CEO Masaaki Furukawa
Start of business
June 2, 1957
Establishment
March 22, 1962
Capital
JPY 1.6 billion
Board members
President & CEO
Masaaki Furukawa
Director
Yoshinobu Yamane
Director
Seiji Makita
Auditor
Katsuaki Watanabe 
Operating officer
Tetsuo Morishita
Operating officer
Yukio Sumida
Operating officer
Noriyuki Yokoshi
Major stock holders
Osaka Small and Medium Business Investment & Consultation Co., Ltd.
The Chugoku Bank, Ltd.
The Hiroshima Bank, Ltd.
Sumitomo Mitsui Banking Corporation
Sumitomo Mitsui Trust Bank, Ltd.
Nippon Life Insurance Company
Sumitomo Life Insurance Company
Tokyo Marine & Nichido Fire Insurance Co., Ltd.
Employees
273 (As of January 2022)
Bankers
The Chugoku Bank, Ltd., The Hiroshima Bank, Ltd.
Sumitomo Mitsui Banking Corporation
Sumitomo Mitsui Trust Bank, Ltd.
Annual Sales (FY2021)
JPY 10.6 billion
Sales Composition Ratio
Domestic 60% , Overseas 40%
Group Businesses・Others
ECS Corporation,  
Cap Co., Ltd.
SHANGHAI SHINWA MACHINERY CO.,LTD.
OLD RIVERS(THAILAND)Co.,Ltd.
SHINWA KIKAI Co.,Ltd.
Hi-Pack Co., Ltd.
History
1946
Food processing company launched by the founder, Takao Furukawa.
1950
Launched research into moisture-proofing packaging machine using plastic film, to protect food against moisture.
1957
Developed own vacuum packaging machines alongside progress that enabled plastic film to withstand vacuum pressures and heat. Launched business in Yoshiwa-cho, Onomichi, Hiroshima, and developed first vacuum packaging machine made in Japan.
1962
Established Furukawa Mfg. Co, Ltd. with JPY 5 million in capital.
1964
Built factory in Kihara-cho, Mihara, Hiroshima.
1971
Began studies of overseas markets.
1972
Developed world's first high speed, high performance rotary vacuum packaging machine.
1976
Increased capital to JPY 100 million. Built factory in Higashi-Onomichi, Onomichi, Hiroshima.
Concluded distributor's agreement for vacuum packaging machines with WR Grace Co., Ltd. of the USA.
1981
Rotary gas vacuum packaging machine caught worldwide attention at Interpack 1981.
1983
Increased capital to JPY 200 million.
Received 17th Small Business Research Institute Center Award (now Good Company Award). Received Regional Award.
1989
Built headquarters and factory in Ohara, Nutanishi-cho, Mihara, Hiroshima.
1990
Increased capital to JPY 1.6 billion.
1992
Founded Furukawa Technology Promotion Foundation to contribute to technological advancement in the local area.
Built second plant, baseball field and two tennis courts at our headquarters in Hiroshima.
2001
Founder Takao Furukawa acceded as chairman and Masaaki Furukawa assumed post of president.
2003
Opened office in Qingdao, China.
2006
Acquired ISO9001 accreditation.
2009
Founded Furukawa MFG. (Qingdao) Co., Ltd.
2013
Founded OLD RIVERS (THAILAND) Co., Ltd.
2014
Built  a corporate history exhibition room, "創(SOU)".
Acquired all share in SHINWA KIKAI CO.,LTD.
2016
Acquisition of proprietary interest of SHANGHAI SHINWA MACHINERY CO.,LTD.
Establish FURUKAWA ENGINEERING CO.,LTD.
Establish FURUKAWA SERVICE HOKKAIDO CO.,LTD.
2017
Establish FURUKAWA SERVICE CO.,LTD..
2021
SHANGHAI SHINWA MACHINERY CO., LTD. opened Sichuan office in China.
Product Guide
Vacuum Packaging Machines
Automatic Filling-sealing Machines
Tray Sealing Machines
Automatic Sterilizing-cooling-drying machines
Various Food Packaging Machines and Related Equipment
Various Industrial/Medical/Pharmaceutical Packaging Machine and Related Equipment